Demanding Summer Internship – Paid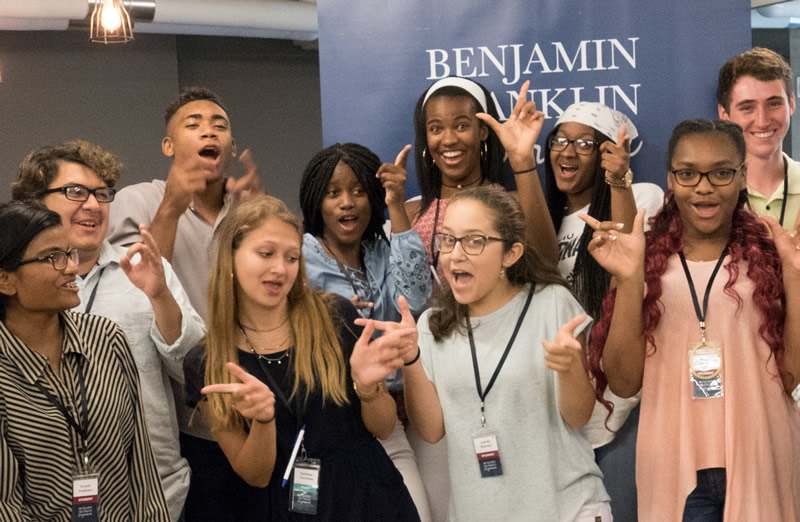 Do you thrive in a fast-paced environment? Do you love teenagers? Are you always up for an adventure? Love being outdoors one day and dressing up the next? Are you flexible? Do you have respect for structure and tradition? Are you a creative problem-solver? If you possess these attributes and qualities, then look no further, you have found your summer home!
Internships and counselors at the Benjamin Franklin Experience are unlike any other job you'll ever have. As one of the finest experiential education programs in the country, we know how to create a rich and rewarding summer. One day, we'll work with environmental scientists in a mountain stream, the next, cut a soundtrack for a TV show, the day after, fabricate lighting fixtures at a $200 million-dollar construction site. We're giving you the chance to work hard, play harder, and enjoy the best summer you've ever had.
Check out our introductory video

This is a deeply rewarding position requiring a lot of hard work. It offers unparalleled learning opportunities and introductions to extraordinary business leaders, mentors, and professionals from dozens of industries. Ideal candidates recognize the uniqueness of this opportunity and are ready to become a part of and have fun with an incredibly dedicated and passionate team.
Personal qualification we are seeking include
Confidence in supervising teenagers, and being part of a team responsible for their physical and emotional well-being;
Emotional intelligence and maturity—an ability to discern and communicate the needs of the teenagers to Senior Counselors and Directors;
Willingness to openly share, speak publicly, and participate in activities with students;
Exceptional organizational skills, determination to complete tasks, and ability to adapt when circumstances change;
Exuding positivity and remaining composed working under widely varying circumstances: while potentially empathizing with a teenager in crisis.
DUTIES
Typically, counselor / intern staff members at the Benjamin Franklin Experience have "dual" responsibilities. Your day is reasonably divided between working with students and the support of computers, creation of visual and written materials, and public relations. In your capacity as a counselor and intern, you will be teaching alongside other BFE staffers.
Empowering and Protecting Students
Listening to and finding answers for students who have questions or issues, and empowering them to take full advantage of the opportunities the program has to offer;
Ensuring the physical safety and emotional well-being of students at all times;
Observing group dynamics and alerting the Senior Counselor or Program Director of any violations to our code of conduct.
Curriculum Implementation
Participating in group activities with students and serving as supervisor/leader of small groups of teens;
Assisting with set up/break down of computers, equipment, and other program elements as needed.
Logistics
Setting up snacks in the morning at class headquarters;
Communicating with our partnering restaurants;
Coordinating lunch for approximately 40 people per day including delivery/pickup, setup, and cleanup in a different location each day;
Carefully creating options for students with known food allergies.
QUALIFICATIONS
Child development, education, and/or psychology majors preferred;
Valid driver's license, and clean driving record;
Reliable transportation;
Intense attention to detail;
Clear and professional communication skills;
Excellent organizational ability;
Graciousness in working with vendors, students, and community partners;
Ability to multitask and perform confidently under pressure;
Positive, can-do attitude with a high standard of excellence;
Pride and caring in coordinating with our community partners.
EMPLOYMENT TERM
START: 6/10/2019
* OFF the week of July 4th
END: 8/13/2019
Approximately 35 hours a week
PAY: $2,500 Stipend
APPLICATION AND INSTRUCTIONS:
Please send a resume AND cover letter expressing your interest in the position to Administrative Coordinator, Alice Thompson, alice(at)franklinexperience.org, by March 31st. Please demonstrate that you have researched the program, and explain your understanding of the importance of this role in creating seamless experiences for our students.
Benjamin Franklin Experience (BFE) is an equal opportunity employer. It is the policy of BFE to ensure equal employment opportunity without discrimination or harassment on the basis of race, color, religion or creed, sex, age, marital status, or sexual orientation.